---

John McCaskill

- Our classmate John McCaskill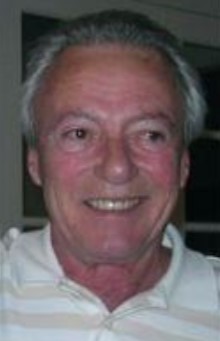 died suddenly on 4 August 2021 as the result of an accident at his second home in Galveston, TX. He loved tinkering with his boats, fishing and crabbing in the bay.
Orenda page
Obituary
---
Denny Reed

- Our classmate Dennis Dale Reed passed away July 21, 2021 in Kerrville. He married Jean Teel on July 25, 1964 in Dallas.
Memorial services will be held at 10:00am on August 14, 2021 at Garden of Memories Cemetery in Kerrville, Texas. A lunch reception will follow at
11:00 am at the Dietert Center.
Orenda page
Obituary
---
B.E. Buschardt
-
Our classmate B.E. "Bud" Buschardt died 15 March 2021 in Carrolton, TX. A well known TV and radio personality
in the Dallas/Ft. Worth area
, Here is a video

of Bud providing a trip down memory lane on campus at UNT. Donations can be made to a scholarship fund in Bud's name at the University of North Texas as noted in more than one of his on-line memorials linked from his obituary..

Orenda page
Obituary
---
Charlie Ward
-
Our classmate Charlie Ward died on 15 June 2021 from complications of h
eart disease. A founder of Media Communications and later,

Idea Works Global,

he reached the pinnacle of success in luxury marketing. A private celebration of life will be held in Santa Barbara, California.
Orenda page
Obituary
---
Johnny Dull
-
Our classmate Johnny Dull died on 1 June 2021 in Houston. His memorial services will be held on 11 June at St. John the Divine Episcopal Church, and will be
streamed here
and posted for 30 days following. Donations may be made to the Houston Alzheimer's Association at
this special page
for Johnny..
Orenda page
Obituary
---
Donald Baty
-
Our classmate Donald Baty died on 16 December 2020 in Houston from Covid-19.
You may wish to donate in Don's honor to St. John Devine or MD Anderson

.
Orenda page
Obituary
---
Lana Feagin
-
Our cla
ssmate Lana Feagin (Stripling) died peacefully in Dallas on 12 December 2020. Lana led a full and accomplished life.
While working at the June Shelton School in Dallas for about 20 y

ears, she developed a

handwriting program and published several books on Developmental Motor and Handwriting Programs. As Larry Hitt notes, "Lana had a very productive life serving others."

We thank our Roberts Elementary classmate Ellen Rothermel (Stuart) for providing the Dallas Morning News obituary link.
Memory Album
Orenda page
Obituary
---
Blackledge Stories
-
Mike Blackledge reports that after six years, his legacy tome
Blackledge Stories
is now available. You can find it on Amazon, but you can get a 59er discount at his web site:
BlackledgeBook.org
---
Paul Brindley
-
Our classmate Paul Brindley, whom you may remember serving as Irari President, died peacefully on Thursday, 27 August 2020 at his home in Tiki Island Community, Galveston, Texas.
Our thanks to Art Faris for providing Paul's obituary which appeared in the Houston
Chronicle
and the Galveston
Daily News
.
Orenda page
Obituary
---