We made the road trip! During 9-12 November 2021, the Lamar High School Class of 1959 held a casual reunion in Fredericksburg, Texas. Most relaxed and informative reunion yet!

Actual attendees:
Kay Ann Johnson Bednarski
(and Fred)
, Mike Blackledge
(and
Bonnie
)
, Maria Burke Butler, Carol Sue
(Sukey)
Fenoglio, Larry Hitt,
Nick Kuntz
(and Maureen)
, Rick McDowell
(and Donna)
, Mary Austin Moody, Kathleen Much
(and Stanley Peters)
, Pat Shannon Needleman, Sharon Anderson Rose
(and Dr. Joyce Maldonado)
, Karen Ashmore Taussig, Jeremy Wicker,
Malcolm Bell,
James Davis (
and Martha)
,
Rick
Lilliott (and Gwen), Elbert
Coker (and Peggy Jo),
Judy Siracusa
(Class of '61), and
Kay Clark Daigle
. Great group to gather with! The grads who participated in Thursday's Memory Roundup are shown below. Plus here is the
link to Larry's Photos
. And here is
the link to
James Davis' photos.
Got a good photo? Share it! Got a good story? Send it!
Here's what we did!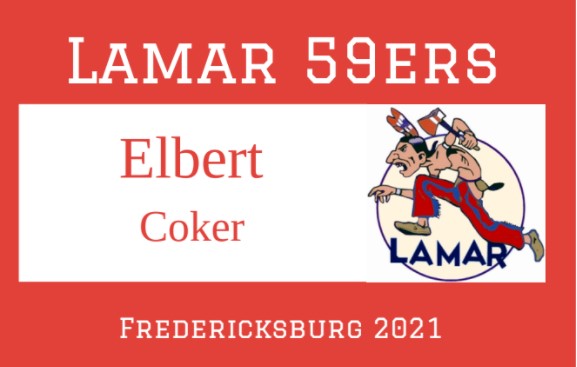 Tuesday, November 9
We held a casual welcome reception/cocktail party starting at 6 pm in the hotel's
Brodbeck Room
with a cash bar and, in lieu of a dinner, a selection of delicious hors d'ouevres provided by
Feast & Merriment
, an excellent local caterer. We picked up our name tags which were attached to a complimentary Lamar Redskins Mug and Pen.
Wednesday, November 10
Free day with an optional 1:30 PM visit to sample the wines at the spectacular Signor Vineyards, scouted and highly recommended by Mary Austin Moody who lives in Fredericksburg.
A reservation has been made at 1:30 for the 17 of us who have signed up for the wine tasting. Some of us had lunch there before the tasting. Click
here
to see their menu. There were also some shopping opportunities. Signor is 11 miles from Fredericksburg off of HWY 290 East. Here is a
map
.
Group dinner at 6:30 pm at Fredericksburg Brewing Company where they provided a German buffet in the biergarten which has been reserved for us. Prost! The address is 245 E. Main St.
Thursday, November 11
Mike Blackledge moderated a Roundtable Octogenarian Memory Roundup in the dining room right after breakfast!

This is a session for classmates while our guests go shopping! Elbert Coker suggested that we begin by having everyone take a minute each to summarize the highlights of their Life After Lamar. This will give us another chance to catch up on each other's lives and may lead to interesting follow up conversations! Here is a question to think about: What is it about Lamar High School that brought us all together once more, some half a century later?
Elbert Coker's icebreaker: each attendee provide 90 seconds on

Life After Lamar

(lead off with your name and where you live now)
What would you offer as your Wisdom of the Ages: health tips or best pithy saying. It used to be "All You Can Eat"; now it is "Where Is The Bathroom?" or perhaps "Do you have a Senior Discount?"
Why are we all here today, more than 60 years after we left Lamar? What was it about our three years - and it was just three years, yes? - of semi-shared experiences that brings us To Fredericksburg? Is it all worth it?
Now Here This (documentary on PBS - Pat Shannon's son's documentary)
Jeremy suggested that we Google: Harry Lynch Jr. Interview
Capture your own story! Maria suggests StoryWorth.com
Larry suggests LastPass.com which is free and will capture and populate all your on-line passwords.
Friday, November 12

We checked out of the hotel. Some enjoyed lunch at one of the local spots before heading home, such as the Airport Diner, Red Bird Grill, Sunset Grill or the Old German Bakery and Restaurant.
There was much to see and do in Fredericksburg! Check out
https://www.visitfredericksburgtx.com/
for a complete guide to activities, restaurants, shopping (retail therapy?), wine tasting rooms and museums.

Your mini-reunion team, Maria Butler, Jeremy Wicker, Mary Moody and Larry Hitt, enjoyed seeing you in Fredericksburg!