What a great weekend! Classmates gather at Lamar on Saturday 30 March 2019. First row: Marian Powell, Ann Knickerbocker McCullough, Barbara Pickard, Mike Blackledge, Bonnie Blackledge, Lou Parks Gorski, Martha Davis (wife of James), and Arlen Ferguson. Second row: Nick Kuntz, Travis Broesche, Beth Phillipps, Vann Phillips, Malcolm Bell, Bill Higdon, Sharon Anderson Rose, James Davis [facing left], Cynthia Lindsay Savato, Arthur Faris, and Rick Lilliott,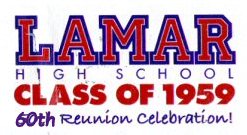 Hey, did you get some good reunion photos? To share them with your classmates, please upload them to your favorite free photo cloud site (e.g., Google Photos, Flickr, Imgur, SmugMug, Archive.org) and send the link by email to webmaster [at] Lamar59.org so it can be provided here. Adding identifying captions would help your classmates and the archivists.
Once you click on a photo site collection below, it will take a minute or so to load - be patient! It will be worth it!

---
The Barbara Pickard Collection
[immediately displays flip-book; JPEGs are also available in this collection once you scroll down below the flip-book.] Click on the flip-book to change the page. Note the following additions/corrections to captions in the flip-book:

Slide 2 (Kirby Ice House): Jim Able in background, and Lou Parks Gorski, Nancy Sue Bammel, Orlean McCallum, Sharon Anderson Rose featured. In slide 12, Rick's wife is Donna and in 18, the lady to Joe's left is Mary Austin Moody.
---
The Malcolm Bell Collection
[some of Malcolm's JPEGs are captured in the above linked PDF file] Plus here are a few 'additional' direct links to a photo:


Photo-01 [Eldon Jones, flown in by request from Bogota, Columbia];
Photo-02

[Maria Burke, Lynn Hughes, Pat Shannon Needleman];
and finally, this shot from Kirby Ice House [Bob Sternenberg, Rick McDowell, Ed Bock]:
Photo-03
---
The James Davis Collection
[we await this one!]

---
Your Collection Goes Here!