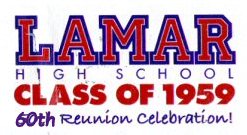 Lamar HS 1959 Class:

Reunion Meditations

Lamar HS classmates of 1959:

On the final weekend of March, 2019, a reunion was held to commemorate the 60th year of graduation for the Lamar HS Class of 1959. I deliberately avoid calling it the 60th reunion because we were unable to contact hundreds of classmates who may still be alive and in good health. Roughly 75 Lamar grads attended at least one of the four events that weekend. Spouses and accompanying persons brings the total to over 100. All reports indicate that attendees were very pleased.

Nothing would have happened without

Bette Azadian Leonard

persistently asking the monthly Houston lunch group in 2018, "Are we going to have a reunion?" The first discussion point was whether enough interest existed to justify organizing something. After we decided to do something similar to the 50th reunion,

Arlen Ferguson

and

Rick

McDowell

took charge of finding venues that were not too large and expensive or too small in case of an unexpected response.

Mike Blackledge

kept information up to date on the class website
.

Larry Hitt

and I dug out the spreadsheets from the 50th reunion to get as many contact emails as we could.

Maria Burke Butler

arranged a fabulous hotel rate for attendees from out of town. Bette pitched in, and

Malcolm Bell

helped with logistics.
[BTW, Bette has a pair of women's half-lens glasses left at the Forest Club Saturday night.]

The Punchline: As the husband of one of our classmates was leaving the Saturday night event, he shook my hand and said, "Let's do this every year!" While you roll your eyes, I will make some observations.

1) People at the events were very enthusiastic about the experience.

2) In another decade at age 88, those of us still alive will probably not be lively.
3) We only made a dent in the list of classmates, and others might enjoy reacquainting their old classmates as did our attendees.

I am not trying to solicit comments, nor do I want to start a franchise of Reunions R'Us. However, I encourage everyone to consider whether you know how to contact other classmates particularly if you know they were not at the gathering in March. The best way to contact us is through the website and I urge you to spread the word about its existence. I can be reached at Wendell@Lamar59.org
Mike Blackledge can be reached at Webmaster@Lamar59.org


Perhaps in a year, after the glow has subsided, we can have a discussion about getting together more often as time is not on our side.


- Wendell Mendell



Events
Attendees
Photos
T-shirts

P.S. Where are

your

Reunion photos? Please upload to your favorite Cloud storage (e.g., SmugMug) and send the link to mike@blackledge.com - haven't got shareable Cloud storage? Start an archive.org account (free and forever).
The above is a summary of the 60th Reunion events distributed by Wendell on 13 April 2019 to known Class of 1959 email addresses. This page captures the Introductory Remarks and Event Planning for the 60th, and is maintained for archivists.
What happened to the fifties? Can you believe it has been

60 years

since we left

the safe, warm (no air conditioning), all-encompassing arms of Mirabeau B. Lamar? Remember back when our mascot was Big Red? Remember the great friends and

teachers we had? Remember Snigglefritz? Remember when we actually had social clubs? Hey, it's time for our ...
60th Reunion! 29-31 March 2019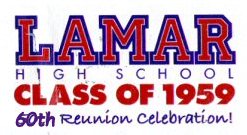 Message from the Reunion Committee on 25 Mar 2019, 8:30pm

---
Dear fellow Lamar classmates,
The first event of our reunion schedule is coming up this week. We have registrations for alumni and accompanying persons. You can find that list [below] on the Lamar 1959 class website. For Friday afternoon at the Kirby Ice House we have 89 people registered. For the Lamar tour, we have 66. For the Saturday night dinner at 7pm at the Forest Club, we have 91 people. Finally, we have 61 intending to make it to the Cadillac Bar (Laredo Room) for Sunday brunch at 10am. The diners Saturday night will receive a little extra surprise as well as upscale name tags.
Even though location information is on the website and everybody has a GPS in a car or on a phone, we anticipate someone will get confused about times and places. Those folks can call me or Rick McDowell. Rick is the best bet for information about the Friday afternoon and Sunday morning events. He has been in charge of that part of the scheduling. Arlen Ferguson is the guru for everything on Saturday.
As of this writing, I do not have detailed instructions for the school tour. I will forward those as soon as we know them.
A limited number of custom t-shirts will be available from Rick. See [
T-shirts
]

- Wendell Mendell

---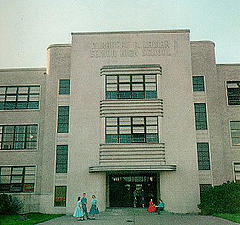 ... getting the ol' band back together!


We're looking forward to seeing you at our 60th Reunion - this is the week!

Great interest and turnout! We know

these classmates are

attending

-
... and these classmates are

considering

...
... (and

some

classmates have told us they will not be attending) ....
Unfortunately, over the years, we've lost many

classmates

. It's time to gather up the rest of us!
Who have we missed? If you know of a classmate whose name is not on one of these lists, and you have some contact info, let us know!
Meanwhile, please print and mail this form.

Any questions? Ask away!


Wendell@Lamar59.org



Hotel Accommodations: Traveling from out of town? Thanks to our classmate Maria Burke Butler, we have a great deal on a most convenient hotel. This deal runs out soon, so make your reservations now! Within walking distance of the Galleria, and you can park your own car! Take advantage of our 60th Reunion block of rooms: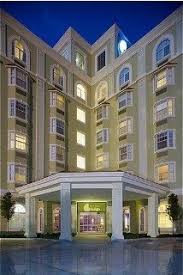 Hotel Indigo Houston at the Galleria
5260 Hidalgo Street
Houston TX 77056
phone: 713-621-8988

websi

te



Our Group Accommodations available during the Reunion (29 March 2019 thru 31 March 2019 - use Group Code

LSR

):

Classic King: $99/nite
2 Double Queens: $109/nite
King Suite: $129/nite
note: the cutoff date for this deal was 8 March 2019
60th Reunion Events
(29 - 31 March 2019)
---
Friday, 29 March 2019


Please note start time! On Friday from

4 pm

to 8 pm we will have an informal gathering at the Kirby Ice House.

T-shirts will be sold at this event! Click for details!


Kirby's is located at 3333 Eastside, just south of good ol' Lamar (see map). You can view the front inside bar in this 360 degree photo. Bring your dog or your ex-spouse - all are welcome!


(

a sleek, expansive bar serving local beers, cocktails & wine with a big backyard & food trucks; just like the Lamar Cafeteria in the 50s.

) Pay-as-you-go open bar. We'll meet at the

front inside bar

, which is just inside the main door which opens to Eastside. This is an area conducive to walking around, meeting, talking - see the photo. There will be a food truck available if you wish to order beyond bar food. (Planner: Rick McDowell) ...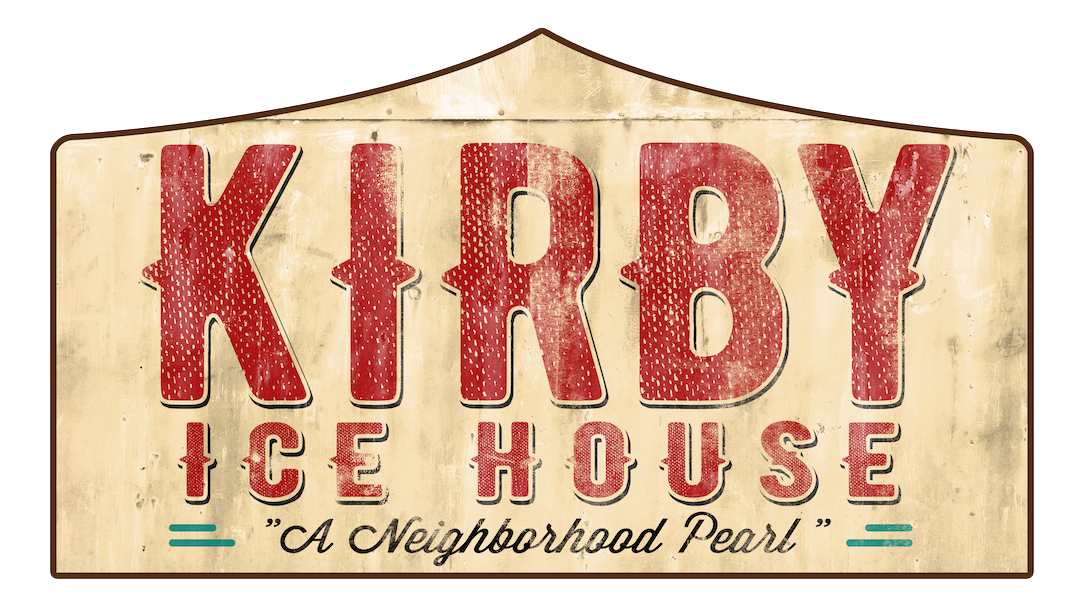 http://www.kirbyicehouse.com/

---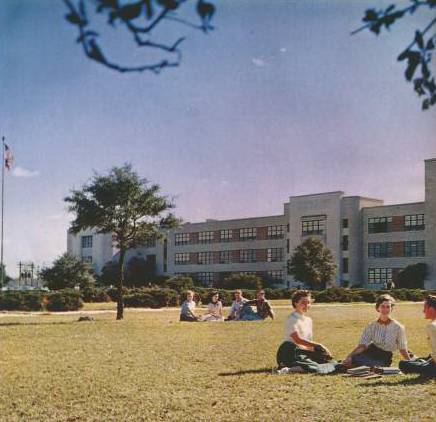 ---
Saturday morning, 30 March 2019

Before we dress for our Dinner Party, Fran Callahan will take us of a Tour of Lamar (11 am to 1 pm) to see all the additions and what Life is like today for the Redskins - uh, "Texans." School is not in session on Saturday and we can view the construction site of the 'new building.' If you get hungry, there are numerous restaurants in the area. Or just pack a lunch and sit on the Lamar front lawn 'like the old days.'

[Fran Callahan, the Executive Director of our

Lamar HS Alumni Assoc

,

is our contact and tour guide for this event]


---
Saturday evening

, 30 March 2019




7 pm Reunion Dinner Party

The site is

The Forest Club,

9950 Memorial

.

Attire is dressy casual (sport jackets required for men)


Situated on more than six wooded acres, deep in the heart of Houston just off Memorial Drive, the Club is a rare gem in the bustling City of Houston. Founded in 1946, by some of Houston's oldest and finest families, The Forest Club's guiding principle has always been to create a comfortable environment where friends and family can gather, dine and enjoy recreational activities.




[Arlen Ferguson has made the arrangements for our big Saturday event.]




---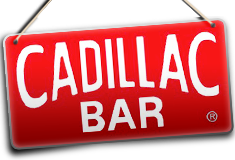 Sunday morning, 31 March 2019

Please note start time!

10 am

at The Cadillac Bar (1802 Shepherd - one block south of the Katy Freeway, I-10). $27 total per person, cash or credit card (covers the Sunday Buffet with non-alcoholic drink & tax & gratuity).
Our class will be in the

Laredo Room

(large separate room with separate entrance at East end of building, opens to a little side street called Nolda). Any remaining Reunion T-shirts will be made available at this event.

Be sure and sign up on the Registration Form for this farewell brunch!