Journal of Ignatius Snigglefritz in Canada, eh?

Mon Sep 14

We departed from our Cruise Connection City at 7:10 AM [Weather: Hi 84, Lo 61; Par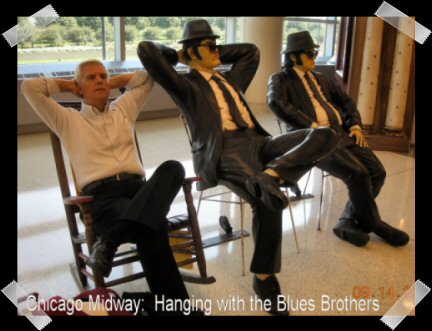 t Cld] and arrived in Chicago Midway (MDW) at 10:50 AM. We encountered the Blues Brothers in the Midway airport and ate at Harry Caray Grille (the Burgers had Holy Cow chips). Then departed Chicago Midway at 1:45 PM to arrive in New York Laguardia (LGA) at 4:50 PM.

Transportation from LaGuardia to Crowne Plaza Hotel was a "Super Shuttle" at $16 per person, thus cheaper than a cab. We had previously made a reservation on the web site www.supershuttle.com. "Thank you Mr. Ignatius. Your reservation with SuperShuttle has been saved. [you paid $4.68 tip]." Ignatious experience some confusion in locating the shuttle as one needs to call for it; we were the 6th stop of 7 when we finally got aboard, with a full tour of Harlem and talking to an attractive young "working girl" from Chicago who moves into a Hostel for a six-month stay in NYC. Meanwhile our cousins had a glass of wine in the Crowne Plaza lobby bar while awaiting our arrival.
We arrive at the Crowne Plaza Manhattan (1605 Broadway) to find the weather in NYC to be a warm 78, low of 61, partly cloudy with no rain predicted for both Monday and Tuesday. Our guest room turned out to be a great corner room with a view of Times Square in one direction and the Hudson River (glimses of this departure river for the Eurodam) in the other - great!


Monday evening, 7 pm

: Meet long-time distant cousins Richard and Diane in lobby of Crowne Plaza. We all go out for dinner at Sharp's Steak House on the East Side. We experience the subway system for Tuesday.


Tuesday, Sept 15: on our own in NYC until arrival at 10 am of Bonnie's daughter Marcey. Off we go on whirlwind tour of NYC, covering Rockefeller Center, Central Park, a 5th Ave Shoe Store, NY Public Library, and Radio City. Our most fun lunch location was thanks to Marcey at Ellen's Stardust Diner (corner of Broadway and 51st St) a retro 1950s diner where the waitstaff display great singing talents with super duets (e.g., Phantom of the Opera, Abba's Mamma Mia and The Dancing Queen). Ellen was a Miss Subways of - what else - 1959. We enjoyed it so much we went back for dinner (Bonnie got Chocolate Cream Pie and hot tea) for a new cast of singers: "Devoted to You" and "You Don't Have to Say You Love Me" brought down the house - er, diner.



Wednesday, Sept 16

: [60% chance of rain today] Requested extended Check-out of Crowne Plaza by 1 pm. Slept in, packed, had a fun breakfast in the hotel and took a Cab to Manhattan Cruise Terminal (711 12th Ave.). Fun $10, 10 minute cab ride (talkative 32 year NY driver who 'bought' his cab for $365K which today is worth $685K) It took about 30 minutes to check on-board. Saw classmates Jeremy Wicker with friend Nancy, and Larry and Patti Hitt already waiting in line. Our luggage is taken at the Pier by hopefully respectable dock workers, as they assure us, "You won't see us aboard." We take the hint and tip them. Dinner that evening we locate our new "home:" Table 33, Deck 3, with Ibnu (from Indonesia) and Putu (from Bali). As we depart, we view the Grand Lady out of our dining room window.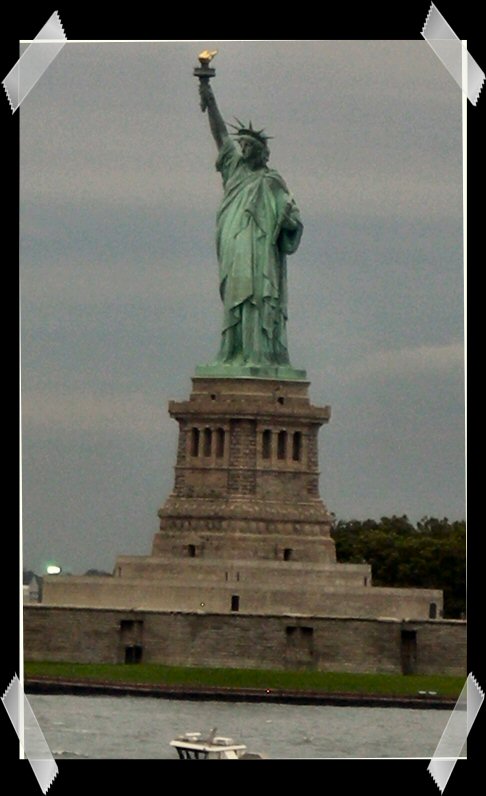 Wow!


MS Eurodam departs from New York City at 5 pm on Wednesday 16 September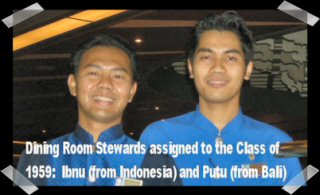 2009

Embarq on Eurodam: We turn our cell phones off while aboard ship as there is a $2.49/minute roaming charge by HOlland America. We plan not to call until we go ashore (preferably in US of A). Larry uses his Blackberry with international calling to advantage.

Newport (

Thursday, 17 September

. In Port from 7 am to 4 pm, using ship's tender): In Newport, we suggest walking along the Newport Cliff Walk. It is free and the water is on one side and the Mansions are on the other. Consider packing a lunch, there are beaches on both ends of the walk. You will also have access to trolleys while in Newport, which you can hop off and on around town. Weather: 70 Hi, 60 low.
In Newport, we purchased an all-day RIPTA [Rhode Island Transit Authority] bus pass and enjoy discounted parking at the Visitors Center garage. RIPTA trolleys leave the Newport Visitors Center every 20 minutes from 8 am to 8 pm, providing service to the mansions, Cliff Walk and more. "How close do you get to The Breakers?" "Let's see ... how about .... front entrance?" Great!

Our Shore Excursion: the $31 package from the Newport Mansions Experience which provides admission to any five properties of your choice. The tickets are undated, and tours do not all have to take place on the same day. You may see those houses in whatever order you like.

According to the Preservation Society, during this time period the mansions open are: : The Breakers [44 Ochre Point], Chateau-sur-Mer, The Elms, Marble House [596 Bellevue], Rosecliff [548 Bellevue], Green Animals Topiary Garden [in Portsmouth] and Kingscote [253 Bellevue Ave, Newport] [you get entry to 5 for $31]


Q: How long does it take to tour each house?

A: We generally advise allowing between one and one-and-a-half hours for each property, allowing plenty of time to enjoy the tour, explore the grounds, and visit the Newport Mansions Stores. The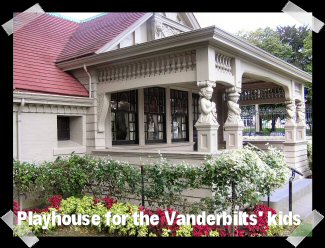 Breakers, The Elms and Marble House are all self-guided audio tours, using a lightweight, state-of-the-art and easy-to-use handheld player. These allow you to experience each house at your own pace. All other houses except Green Animals Topiary Garden are guided tours. At Green Animals, you will be given a map of the grounds and will be free to explore the property on your own.

[Note: you can obtain lunch at Elms Carriage House]

Q: Is there transportation between the houses?

A: Most of the houses are within walking distance of one another in the Bellevue Avenue-Ochre Point neighborhood. Public transportation is provided by the Rhode Island Public Transit Authority [RIPTA], which operates natural-gas powered trolleys along Bellevue Avenue from the Newport Visitors Center on America's Cup Boulevard.

Q: Do I have to purchase my tickets in advance?

A: Tickets are available for advance purchase online, or by phone. However, it is not necessary to purchase tickets in advance. Tickets can be purchased on site at any of the houses.

We found the audio guided tours to be extremely professional - allowed you to back up, take side looks at other aspects, then join the "main tour" again. Then we rode the bus back downtown to the recommended LeForge Restaurant (next door to the International Hall of Tennis) for Shepherd's Pie. We just missed the bus back uptown so we went to Kingscote mansion guided tour. This "old money" house was a different view from the 1897 Breakers. Now ... how to get the bus back? Or do we have time to visit Marble House? The bus finally comes by as we give anway out mansion tickets to a New Hampshire couple - but the driver is not saluting vets as he goes by, he is saying "full up to here!" So we start the long walk back to the waterfront. That night: our first formal dinner - no shoes for Jeremy so no Jeremy for formal dinners.

Boston (

Friday, 18 Sept

. from 9 am to 6 pm): Boston is very walkable. The Boston historic area is compact. The Freedom Trail is very acccessible and quite a bit of fun. It starts at the Boston Common Tourist Office and goes through the older part of town and over to the Charleston Naval Yard where you can visit the USS Constitution. It is quite a bit of walking but you can break it up with lunch in the North End at a small Italian restaurant. Weather: 70 Hi, 54 low.

In Boston, there is a lot to do in the waterfront area. Many shops, pubs, etc. You probably wouldn't want to miss Faneuil Hall marketplace, and there is also the New England Aquarium close by. The famous Durgin Park restaurant, adjacent to Faneuil Hall (aka: Quincy Market) serves old-fashioned New England fare. You will see the Boston "Duck Tours" all over town, and they seem quite popular.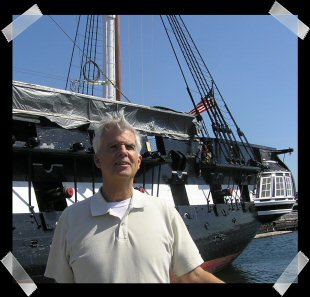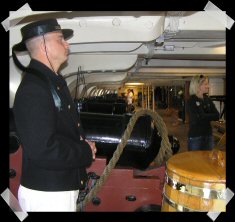 Consider this Shore Excursion: The American Presidents: Kennedy and Adams [departs 1:15 pm; approx 4 hours]; but Bonnie and Ignatious head for

Old Ironsides

.
First we take a long walk to Long Wharf (when we stop to ask directions, we are discouragingly told, "Oh, you have a LONG way to go!") There to City View Trolley gets us to Old Ironsides. There we were going to take the ferry to Charlestown Navy Yard, however the Trolley ticket gives a loop of Historic Boston, Salem (birthplace of Dorothy Forrant), Cambridge, as well as ferry connection. We only had time to go the historic loop. At the Navy Yard, we go through a metal detector more sensitve than at airport, then through the Navy's museum - see a short film on history of the Navy Yard (and the making of rope from alpaca [manila] chosen over hemp, and history of Rosie the Riveter, and the 2nd oldest dry dock in existence. The Navy reserve prepared us for our tour, then great young Navy folks took over.

Bar Harbor (

Saturday, 19 Sept

, from 8 am to 4 pm, using tender): "I loved Bar Harbor, I can't wait to go back. Acadia National Park has great biking trails and hiking. I remember having a lobster dinner overlooking the water and watching the kayakers.."
For independent tours in Bar Harbor, consider www.lululobsterboat.com ($27 for seniors). This is a 2-hour trip on a lobster boat and you also see some seals. The captain recommends the earlier (10 am) tour as you see more.
Also in Bar Harbor - Oli's trolley- a one hour tour (three 15-minute stops) of the area: "For the first time visitor to Great Desert Island, this tour is an excellent way to be introduced to Acadia National Park.
Shore Excursion: The entire Class of 1959 contingent rides Oli's Trolley. Ignatious picks up the tickets 30 minutes before tour departs, and fortunately "Oli's Trolley and Gift Shop" is located right at the tender tie-up area. Our guide was "Doc" who kept the running commentary going - he takes us to the windy top of Cadillac Mountain, as well as to Thunder Hole (previously they lost a tourist off this rocky promontory, but we were careful).

Halifax (

Sunday, 20 Sept

, from 8 am to 5 pm): Halifax is a very walkable city so you really won't need a packaged tour unless you want to get away from the city. The harbor boardwalk is a great way to stroll from the ship to many shops and especially to the Maritime Museum of the Atlantic. If you have any interest in the Titanic, they have a wonderful exhibit at the museum that is well worth taking in. As for the rest of the city, they have a free loop bus that you can just get on and get off when you want. The bus is called "Fred" (Free Rides Everywhere Downtown) and there are banners at all the places the bus stops so you can find it and get back on. The bus only has about a dozen seats however as many as 30 people may be riding at any time.

If you are a Titanic history buff, then you may wish to visit the Fairview Cemetery in Halifax. About 150 victims of the disaster are buried there (some still unidentified, and others only recently identified via DNA evidence). It's a very moving area of the cemetery. Ask any cab driver at the pier to take you there. They all know where it is. Pleasant Bay along Cabot Trail
We did this Shore Excursion: the walkable boardwalk, and perhaps try out "FRED" - although in one city we heard the FRED type bus had seats for 12, and 20 people were hanging off of it.
Larry & Patti Hitt: Peggy's Cove Lighthouse Route (Departs 12:45PM)

Sydney (

Monday, 21 Sept

, from 8 am to 5 pm): "In Sydney, we are taking the Holland America's tour of the Cabot Trail - it is 8 hours and we decided not to hire a car and drive and possibly miss the boat!" Weather: 65 Hi, 51 low.
Bonnie and Ignatious took the HAL Tour: "A Taste of the Cabot Trail formerly The Scenic Cabot Trail" which leaves at 8:30 am and returns to the ship. It will have 4 stops (15 minutes each) on the way to Keltic Lodge for lunch; then one more stop on the beach after lunch, then return down the Trail to the ship at St. Ann's Bay.
Jeremy and Nancy took the Fiddler's Tour while Larry & Patti Hitt experienced Sydney Highlights (Departs 1:00PM)

Charlottetown (

Tuesday, 22 Sept

from 8 am to 5 pm): "In Charlottetown we will be walking around the city, which is the provincial capital. " Other possibilities: shopping, a lobster luncheon at Dalvay-by-the-Sea or a tour of the picturesque farm that inspired Anne of Green Gables. Sample shore excursions: Biking on the Confederation Trail; A Day in Dalvay-by-the-Sea; Island Drive & Anne of Green Gables.
We did this Shore Excursion: Just walking around the city. Charlottetown was our favorite port - the town really was walkable, and we walked all the way to the Beaconsfield Estate and learned the fascinating story of the shipbuilder marrying the Lt Governor's daughter - and going bankrupt when steamships came in and he did not diversify. We also visited the Province House and learned of the fateful day in 1864 when all provinces met here to discuss a new country: Canada.
Larry & Patti Hitt at 8:15 am take the Island Drive & Anne of Green Gables excursion.



Aboard Ship

: (On

Wednesday

we had our only sea day; gives us a chance to mention the numerous activities aboard ship.) Larry outdid himself, probably covering all but three Eurodam events and activities (Bonnie did those three). He took us to three shows (plus backstage - see photo) and the Piano Bar where we tried to play "stump the piano player" - great fun! Also to "Sea Quest" where Ignatious was first on the Atlantic Team to show up wearing lipstick - hey, it was a competitive thing! And Larry was on an award winning (T-shirt) Trivia Team - do you know how old Lorretta Lynn was when she became a grandmother? Ask Larry!



Saguenay

(

Thursday 24 Sept

from 8 am to 5 pm): You may perchance see some Beluga whales in the Saguenay Fjord on the way to Saguenay. The cruise up the St. Lawrence between the mouth of the St. Lawrence and Quebec City is one of the most beautiful in the world. You should be able to see whales from the ship (if it is daylight). Saquenay has a new pier (last year the Eurodam had to tender) - and this turns out to be the only port of call where we experience rain showers.

Quebec City (arrive

Friday 25 Sept

at 8 am; stay overnight): "I cannot say enough praise about this special city. It is a li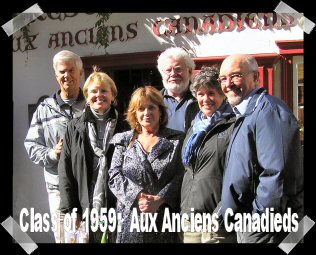 ttle piece of Old Europe in North America. Make sure to have dinner at our favorite bistro there Café St. Malo on Rue St. Paul. There are also countless interesting day trips from Quebec City. This year we drove to the Charlevoix region to Baie St Paul, a haven for artists and right on the Saint Lawrence River. " You shouldn't have a problem with the language. Don't miss wandering the cobble stone streets of Quebec as there is so much history! If you get a chance get out of the city to the Shrine of Ste. Anne de Beaupre, a place of pilgrimage for world travellers. Quite an amazing sight. Weather: 60 Hi, 49 low.
Despite a weak U.S. dollar, Quebec still offers good value for your money and is peaceful and beautiful. Despite common misperceptions, language is not a problem and a very small vocabulary of even a few courtesies will go a long way in this beautiful province. Furthermore, food is of exceptional quality and in restaurants you can dine like royalty reasonably by ordering the Table d'hote or Tourist menu.
Shore Excursion: We wander the cobblestone streets of Quebec, ride the Funicular, and check the daily (and 20 minute) rates of the Frondulac Hotel. Finally we follow the suggestion of Lamar classmate

Joe

Keathley

and have dinner at the

Aux Anciens Canadiens

restaurant on Rue St. Louis.



Saturday 26 September

: For our transfer from Ship to Quebec City Airport, we opt to take the City Excursion for one last ride and look at Quebec. Our tour guide is Renee, who tells us she "graduated" from her husband - great French accent, fun tour. The bus takes us to the "international" airport for Quebec City where we learn there are exactly three (3) flights out of Canada each day. Thus our 5 pm departure cannot be moved up, as the United folks don't even come to work until 3 pm!

Sat 26-Sep-09
Quebec (YQB) Depart 5:00 pm to Chicago (ORD) Arrive 6:33 pm Terminal 5 : International (flight of 879 mi for 2hr 33min)

Chicago (ORD) Depart 7:55 pm to Original departure city. Arrive 9:59 pm 1,118 mi Duration: 3hr 4mn
Total distance: 1,997 mi (3,214 km) Total duration: 5hr 37mn (7hr with connections)



A great cruise

! Well done, Cruise Committee Chair Jeremy! With affection and respect, your obedient servant,

Ignatius

.