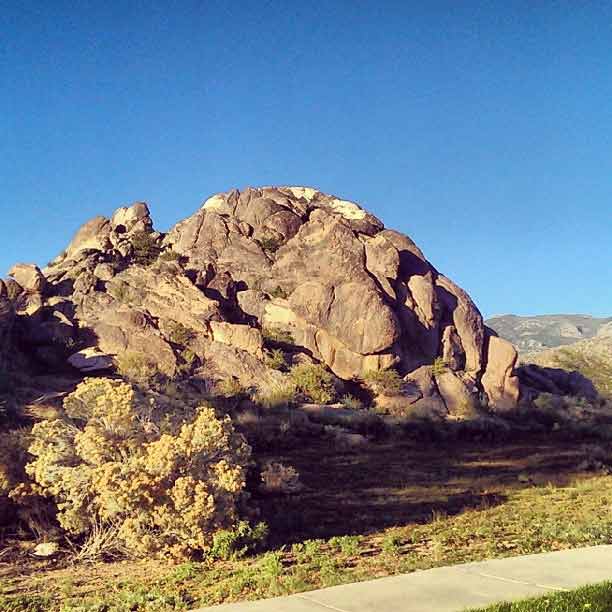 Supper Rock
Neighborhood Association
ten subdivisions; one neighborhood; founded: 1987



web site address:

SRNA

.website


email address:

SRock692

@

comcast.net


Supper Rock Neighborhood Association is
a registered Neighborhood Association
with the City of Albuquerque.



P.O. Box 50577


Albuquerque, NM 87181
Note:

Our next
Neighborhood Association Meeting
will be scheduled once group meetings are again permitted.
---
---
---
---
Searching for pictures of Supper Rock homes in the 1970s:
Our "honorary neighbor" Dan Shaffer [Summit Park Neighborhood] is working on a personal "Then and Now" project to photograph certain houses in our neighborhood as they look now compared to 1972-1974 when the area had very few houses. (Dan recalls

picnicking on Supper Rock when he first arrived in ABQ in 1972 after college.

)




Specifically, Dan is looking for those Supper Rock homes that were photographed by Joe Deal in 1972-1974. Joe was earning his MA and MFA in Photography at UNM at that time. His photos were included in a famous photo exhibit "New Topographics" at the George Eastman House in Rochester in 1975. They are included in a book by the same name.

Any assistance you can offer Dan in helping him find these houses would be greatly appreciated. Click on "Supper Rock Then and Now" at his website:

http://www.danshafferphoto.com/
---
April 2021 History and Culture Opportunities:

click here to see how much is availble to you, as we begin to emerge from this Time of Covid!

---
New Assistant for our District Councilor:
Don Harris, our District 9 City Councilor, has named
his new policy analyst:

Laura W. Rummler

. Her office number is

505-768-3123

.
---
---
No more pet licenses!
As of Friday, 27 December 2019, the city of Albuquerque no longer requires the annual license for each cat or dog owned by a resident. The microchip is still a requirement. The ABQ Journal story on this change is here.
---
Join SRNA:
Download this form and mail it to P.O. Box 50577. Questions? Contact the SRNA Board by email: SRock692[at]comcast[dot]net

---
Foothills Command:
Police officers from the APD Foothills Command have been attempting to visit Supper Rock Park at their shift change - residents should feel free to talk with them about neighborhood concerns - they are there to help us!
---
Next SRNA meeting:
Please note that because of the current health crisis, our neighborhood association meetings usually held
at the Providence Presbyterian Church have been

CANCELLED

.
We will notify via email and this website as to future meeting dates.

---
---
---
Our APS Board Member:
Elizabeth Armijo

took over as our Board

District #6
APS School rep four years ago, in April 2017
.
We are in District 7 for CNM and our rep there is

Michael Glennon

, former president of CNM.
---
---
---
---
---
---
Latest ABQ Neighborhood Newsletter:
Latest newsletter for Albuquerque Neighborhoods is now available to you at
this link.
---
Tree-of-heaven Project:

Tree-of-heaven is an invasive tree in southwestern states that has been listed as a noxious weed in New Mexico. Read more here.
---
The

Canyon Club

at Four Hills (formerly the Four Hills Country Club) is open to SRNA residents for dining membership or tennis and swimming membership, or golfing membership. Details here.
---
---
---
---
Supper Rock NA sign:
You can see one of our Neighborhood Association display signs near our 'entrance' on Copper Blvd, just East of Tramway. Our neighborhood web site URL (SRNA.website) is displayed there, as well as pertinent news for the neighborhood. We also have a second sign at the Encantado entrance to our neighborhood. Continue to check this SRNA.website as well.
---
SRNA Membership

: Dues are $10/year. Membership Form is here (PDF).
---
---
---
---
---
---
---
What's happening in Albuquerque? Local blogs? Check SRNAdipity
---
Did you see that bird? Brugge's Birds
---
City Services: Our City of Albuquerque has an excellent City Services Information Line: dial 311. This service is also found on-line here.
---
---
Continuing

Information of use to the

Neighborhood

Click here to review your Bernalillo County Property Tax records

Where to take your

hazardous waste

, e.g., old paint and oil cans: information here
View front page of today's Albuquerque Journal!

See the current Pollen Count in Albuquerque.




Legal notice: Supper Rock Neighborhood Association is a nonprofit corporation, but we do not have "501-C-3" status with the IRS which would allow for the deductibility of donations.


---
contact webmaster: mike@blackledge.com Last Updated: 10 May 2021


377

web site visitors from Jan 2017 through Sept 2019.
---